Ear to help
Volunteers at the iRSM create surgical simulation models for surgeons in training
March 22, 2017
By Tessia Verbeek, Covenant Health
After surgery, it's natural to want to avoid returning to the hospital. But Thomas Lorincz has been returning for more than five years—and not because he's ill. Instead, Thomas volunteers to give back to the team that has made such an impact on his family.
Thomas's older brother was born with microtia.
"His outer ear was malformed at birth, so at 10 years old he got ear reconstruction surgery," explains Thomas. "It was hard to see him so fragile. But after the surgery, seeing the results and how proud Dr. Wilkes was in my brother's success—it gave me a very real reason to want to give back to the iRSM." 
The Institute for Reconstructive Sciences in Medicine (iRSM) is renowned globally for its specialized medical reconstructive sciences, such as the Autogenous Ear Reconstruction that treats microtia in addition to other ear deformities.
Microtia occurs in about one in 5,600 births, making it a reasonably common birth defect. During ear reconstruction surgery, the surgeon harvests the patient's own rib cartilage, carefully sculpts it into a framework that looks like an ear, then places it in a skin pocket on the side of the head.
"The benefit of this operation is that it is the patient's own tissue so it can withstand trauma and can grow with the patient," explains Raymond Giguere, an Osseointegration Technologist with the iRSM. "This is unlike prosthetic ears, which require remakes and maintenance, and the bony anchors behave as a foreign material." 
Though simple in concept, ear reconstruction is a challenge for plastic surgeons. 
"Making an ear that looks like an ear is a very difficult operation," says Dr. Gordon Wilkes, Director of the iRSM. "Traditional teaching has been hands-on in the operating room, which leads to many poor results and unhappy patients. This is why surgical simulation with models is so important."
That's where Thomas comes in. Along with David Li and Adama Traore, the iRSM volunteers recently constructed 200 silicone rib cartilage training models for new surgeons to practise on. These silicone rib models mimic human rib cartilage and can be carved, sutured and manipulated almost exactly like the real thing. Since Thomas started volunteering in 2012, he has had a hand in constructing more than 400 models.
"Over the years, people have tried soap, dental impression materials and even potatoes to try and get some sort of simulation model that people could practise on," says Gordon. "The models provide a training opportunity for surgical trainees to become proficient in carving silicone, so they're ready to carve real human cartilage."
Like carving rib cartilage, creating the models comes with a steep learning curve. 
"It takes time to learn," says Thomas. "But once you've got it, it becomes a repetitive process."
When complete, the silicone models are available for purchase to surgical programs all over the world. Gordon also uses them in workshops for surgeons in training.  
"Our volunteers bridge the gap in making these models available so surgeons around the world can train themselves," says Gordon.
"We take a lot of ownership over what we make," says Thomas. "Knowing it's a product that has a use in the world—every extra amount of effort we put into them goes to good use."
"It's a privilege to care for patients and involve volunteers in meaningful projects," says Raymond. "Their contribution means we have a substantial global outreach in the surgical market."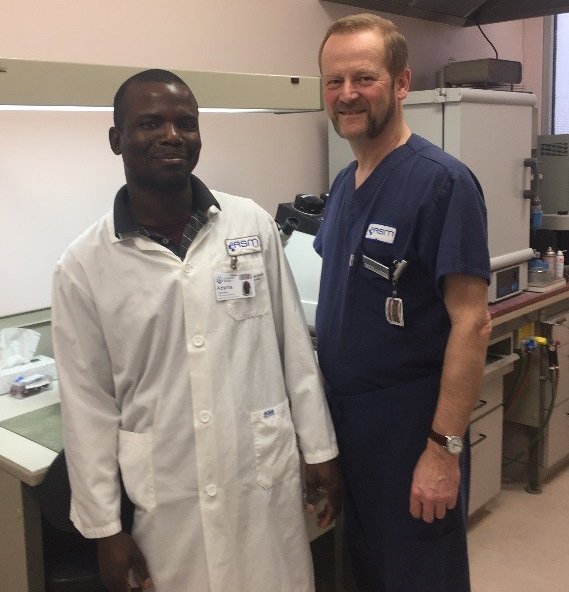 Thomas Lorincz, a volunteer at the iRSM, mixes two types of silicone gel in his hands. The texture is similar to playdough.
After the silicone is mixed, volunteers pack the gel into plastic moulds and place them under a high-pressure press for curing, which is when the gel solidifies into a flexible, rubber form.